Upcoming Events
You can access all of our upcoming events from this section.
FRUITS, VEGETABLES AND HERBS CONFERENCE & EXHIBITION 2019
This years Conference and Exhibition will take place on the 25th -27th September 2019 at the Kenya School of Monetary Studies, Nairobi. The Theme for this years event is "Enhancing market access through aggregation, food safety and compliance to standards in fruits, vegetables and herbs"
Registration is ongoing at: http://fruitvegherbskenya.co.ke/register/
Objectives of the Conference
The main objective of the conference is to bring together stakeholders (both public and private) in the fruit, vegetables and herbs subsector to discuss challenges and opportunities in the subsector with greater emphasis of promoting competitiveness of Kenya's fresh fruits, vegetables and herbs through greater adoption of business models that will support compliance to standards and regulations and market requirements.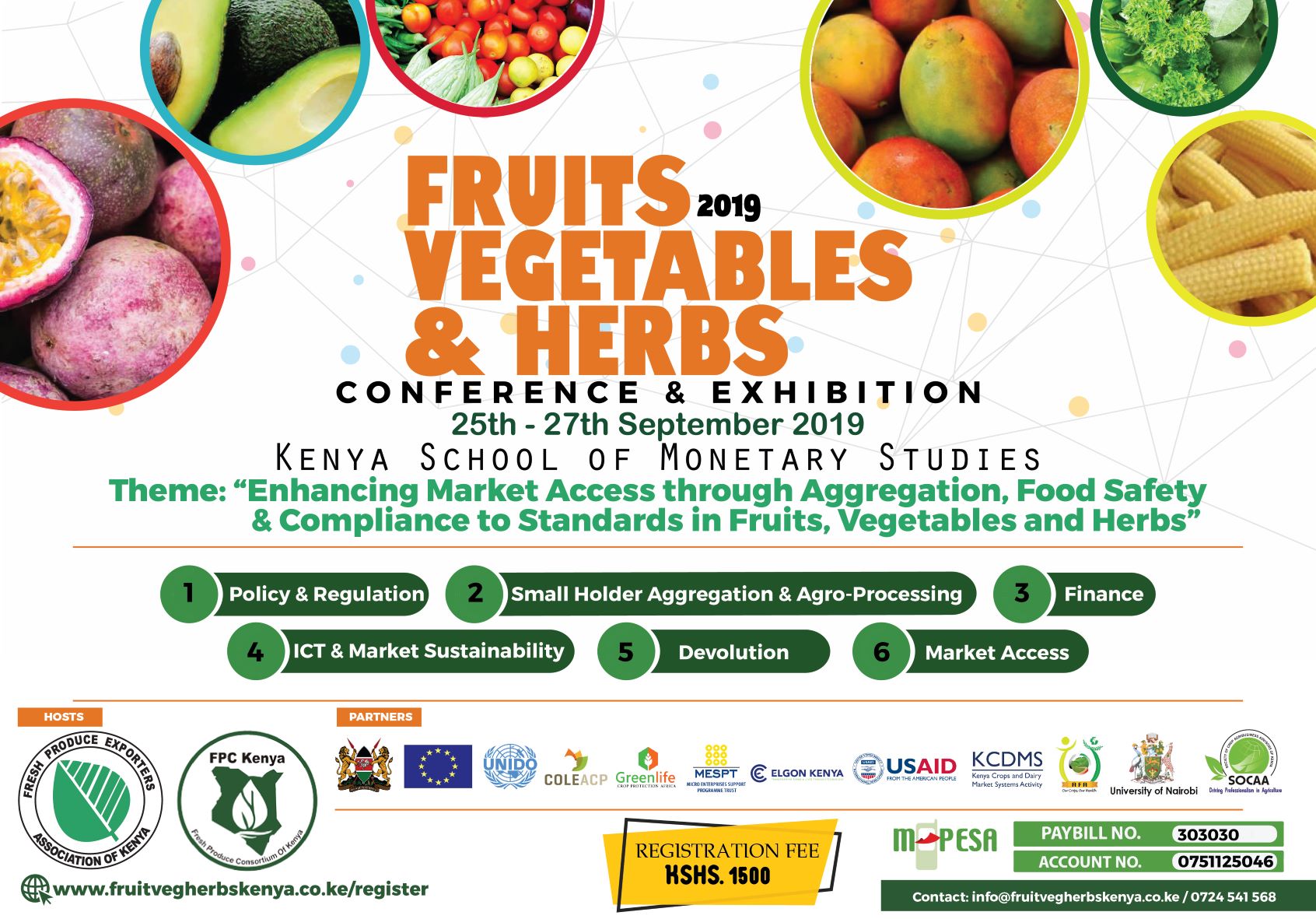 Specific objectives of the conference are:
 To create consumer awareness on food safety standards and regulations
 To identify gaps and factors that hinder smallholder farmers to comply to standards and market requirements
 To mainstream counties in championing compliance to industry standards and market requirements
 To identify and address the gaps that hinder market access for fruits and vegetables both local and international.
The Sub-themes of the Conference are as follows:
 Policy and Regulatory Frameworks supporting the sector
 Consumption, Food Quality, Safety and Standards
 Smallholder Aggregation and Agro-processing
 Innovation, technology and sustainability
 Market Access – advocacy and promotion strategies
 Value chain financing and inclusion
 Devolution – impact, opportunities and challenges for various value chains